Tuesday October 15, 2013
New England News: Studio Management Seminar Presented at the Evian Tattoo Convention!
We are thrilled to be presenting a seminar for studio managers and front desk help! On Saturday, October 19 at 10am-12pm studio manager, Mary Bowen will be presenting "A Day in the Life of a Tattoo Studio Manager: Massive Success One Day at a Time" at the Evian Tattoo Show!
The front desk is the first stop in most tattoo studios. Are you delivering the best first impression possible? Are you guiding potential clients through the perfect experience they will remember for a lifetime? Whether you're a studio manager, front desk worker, or a tattoo artist looking to build the perfect support staff, this seminar has something for you. Mary Bowen, who has managed Off the Map Tattoo for over six years, will take you through her daily, weekly, and monthly routines that help build a successful business and support tattooers to achieve maximum success. From goal setting, to selling and booking tattoos, to human resources, we'll discuss why having a well trained customer service team is key to studio success.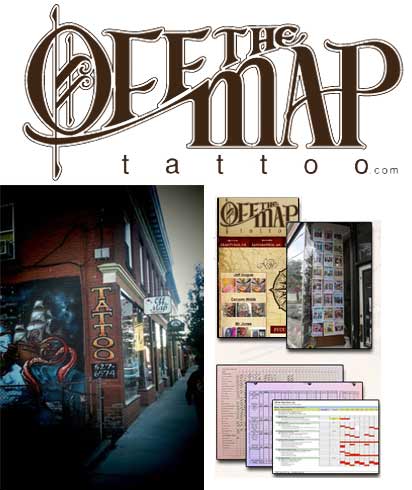 Full time artist Johnny Smith will also be at the show and currently has some openings so feel free to shoot him an email if you are interested in getting tattooed by him!
Off the Map LIVE is webcast every other Sunday from Off the Map Tattoo in Easthampton Massachusetts! Check out past episodes on our YouTube channel, and visit TattooNOWTV.com for more info.