Sunday September 8, 2013
New England and Northwest News: Studio Manager, Mary Bowen, is Teaching a Seminar at the Tattoo Gathering Next Saturday!
We are thrilled to be presenting a first for the Paradise Tattoo Gathering, a seminar for studio managers and front desk help! On Saturday, September 14 @ 8-10 MT we will be offering "A Day in the Life of a Tattoo Studio Manager: Massive Success One Day at a Time." You can purchase tickets on the Paradise Tattoo Gathering website.
The front desk is the first stop in most tattoo studios. Are you delivering the best first impression possible? Are you guiding potential clients through the perfect experience they will remember for a lifetime? Whether you're a studio manager, front desk worker, or a tattoo artist looking to build the perfect support staff, this seminar has something for you. Mary Bowen, who has managed Off the Map Tattoo for over six years, will take you through her daily, weekly, and monthly routines that help build a successful business and support tattooers to achieve maximum success. From goal setting, to selling and booking tattoos, to human resources, we'll discuss why having a well trained customer service team is key to studio success.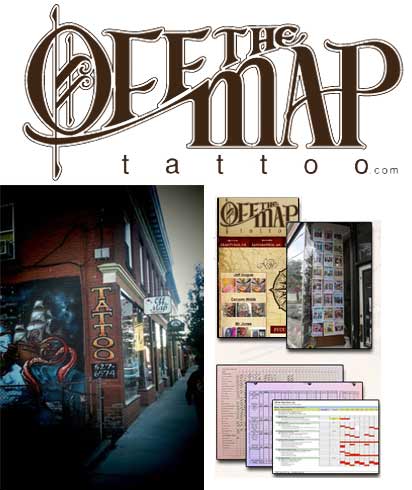 Take advantage of the $99 first time pricing! Feel free to email Mary@TattooNOW.com with requests for content! If you can't make it to the gathering, have no fear, we will also be webcasting the seminar! You can purchase those tickets online as well!
Off the Map LIVE is webcast every other Sunday from Off the Map Tattoo in Easthampton Massachusetts! Check out past episodes on our YouTube channel, and visit TattooNOWTV.com for more info.