Friday July 5, 2013
Northwest News: Earn Gift Certificates Towards Your Next Tattoo!
Are you looking to save some cash on that next tattoo you've been craving? Well, you're in luck! Off the Map Tattoo has a few ways in which you can earn Gift Certificates towards your next session.
BUMPER STICKER BLAST!
One way to earn $25 toward your next tattoo is to stop by the shop any day of the week between 10am - 6pm, pick up one of our super awesome FREE Bumper Stickers, slap it on your vehicle, take a photo, and email your picture to grantspass@offthemaptattoo.com with a mailing address. We'll mail your $25 Gift Certificate out the very next day. It's that easy!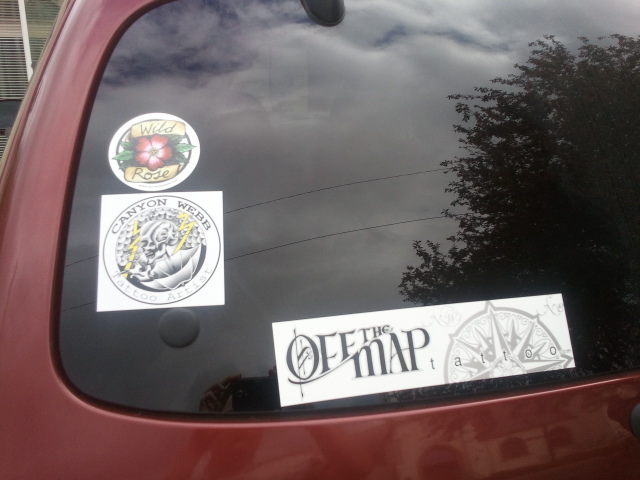 TATTOO TESTIMONIALS!
Would you like to enter a raffle to win a $50 Gift Certificate? Who wouldn't?! Well, we have some great news for you! We are now doing monthly raffles for those who participate in our Tattoo Testimonials! All you have to do is give us a review on Google, Yahoo, or Facebook, then send a link of your review to grantspass@offthemaptattoo.com and you'll automatically be entered! Check out some reviews of past winners here and here for some inspiration. You can review us on all three and get entered more than once, so review away!
CONTESTS, SPECIALS, BIRTHDAYS and EVENTS!
Other ways you can earn towards your next tattoo are to keep an eye out for any contests or specials we might be having. Occasionally we will use various outlets via the World Wide Web to offer Gift Certificates of differing amounts with all sorts of fun contests. We also sometimes offer limited specials such as buying a Gift Certificate for $100 and recieving $50 for FREE! Stay up to date with our daily happenings as well as contest and specials announcements by following us on Instagram, Facebook, and Pinterest.
Another way to earn is to simply come and get tattooed by us for the first time, once your next birthday comes around we will send you an awesome Birthday Gift Certificate for $25! It doesn't get much better than that!
Last but not least, come to our super fun events! We love to have a grand ol' time as much as the rest and we host numerous events throughout the year to celebrate amazing tattoos and our awesome clients. At our get togethers we make sure everyone through the door recieves a Gift Certificate! That's right, all you have to do is show up! But of course, there's plenty of reasons to stay and even more chances to win. From fun games and raffles with all sorts of prizes to our Best Tattoo Idea Contest with the prize of a whopping $250 Gift Certificate, your chances of racking up some big bucks during our parties is pretty darn good!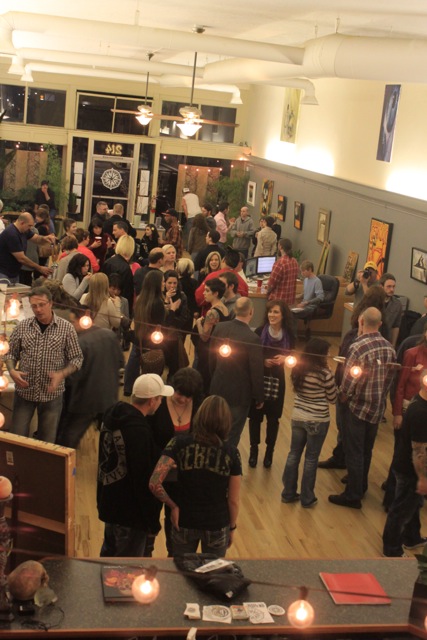 Now you know how to save and get amazing world class tattoo work! With all these offers why not get started now!? Have fun, and thanks for all the support!
Off the Map Tattoo - Northwest
214 NW 6th St.
Grants Pass, OR 97526
(541) 244-1141
Open 7 Days a Week 10am - 6pm
www.offthemaptattoo.com
Off the Map LIVE is webcast every other Sunday from Off the Map Tattoo in Easthampton Massachusetts! Check out past episodes on our YouTube channel, and visit TattooNOWTV.com for more info.