Northwest News: 1 Sleeve, 2 Sessions
Friday October 19, 2012
A client of Jeff's had an eyesore of a tattoo on his forearm, a little dragon that he regretted getting almost instantly and for years wanted it covered. Jeff's solution? Another dragon, but bigger and far better. Their first session began with discussing some ideas and the decision was made to tattoo a Black and Gray Traditional Japanese inspired Dragon. Out came the sharpies and a freehand design was marked onto the client's arm, the beginnings of a full sleeve. After perfecting the design Jeff began the outline and even to his own surprise was able to finish it exactly how he wanted it in less than 4 hours.
A couple of months later came session 2. The plan: Black, more black, and all the black we can get. For a black and gray piece black is obviously necessary, the more black the better, as black is a great foundation for any tattoo, and all the black one can get away with is often a great option for any tattoo, especially when it's a cover up. When in doubt, black it out! So in went the black, and once again to his surprise Jeff was able to shade this entire sleeve in about 4 hours. That's a full sleeve in 8 hours. 1 sleeve, 2 sessions. Simply amazing!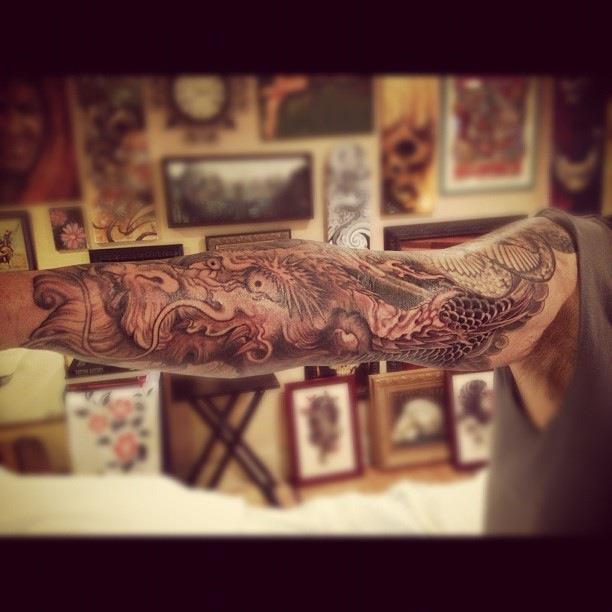 TattooNOWTV is webcast every other Sunday from Off the Map Tattoo! Check out past episodes:

---
Off the Map is always looking for full and part time artists. Apply today!