Saturday October 6, 2012
Northwest News: The Tattoo Snob
Perhaps you remember back in June when we had guest artist Nate Beavers at the shop? If so, you might also recall that Nate and Jeff began a full sleeve collaboration on none other than Tattoo Snob's Kevin Miller. After a couple of hours bouncing ideas off each other a theme was decided and the layout was planned. Once started Jeff and Nate took turns tattooing and by the end of the day this is the progress that was made.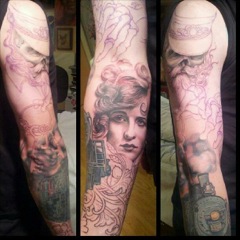 Recently Jeff had a spot open up in his busy schedule so we called up Kevin to see if he wanted in. No tattoo snob would pass up this opportunity, so of course Kevin said he would be here. Jeff got an early start on the sleeve in progress and started packing some color in. After a full day session this is the progress that was made.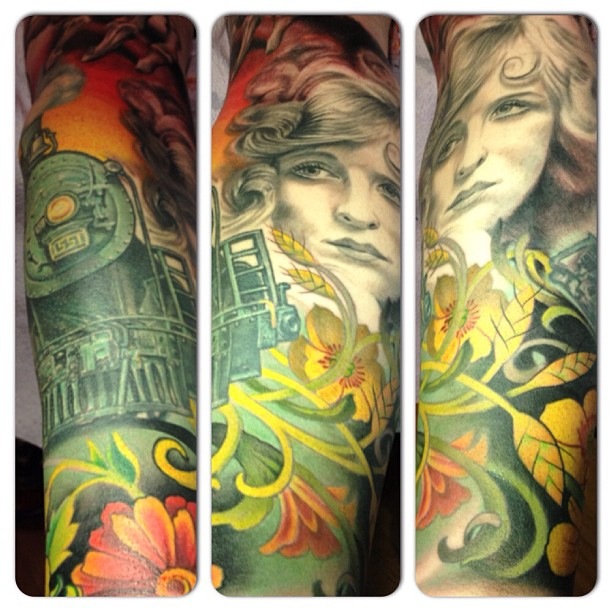 Kevin had this to say about the progress thus far, "It's incredible! It turned out 100% better than I imagined." Kevin's next session will likely be with Nate at the upcoming Hell City Tattoo Fest in Killumbus, Ohio, April 19th to the 21st. He is super excited about getting more work done and being that much closer to completion on this collaboration.
Off the Map LIVE is webcast every other Sunday from Off the Map Tattoo in Easthampton Massachusetts! Check out past episodes on our YouTube channel, and visit TattooNOWTV.com for more info.