Sunday September 30, 2012
New England News: Tim Senecal is back!
Full time resident artist Tim Senecal is back in the shop tomorrow after taking a month away to bond with the newest member of the Senecal family. We are BEYOND thrilled to have his smiling face back in our presence again! With his return, we are happily booking appointments and free consultations for him. Swing by, welcome him back and get the ball rolling on your next tattoo! Tim is really into tattooing big, bright and bold designs and he has over ten years of experience tattooing under his belt! He is booking up fast, so don't hesitate! Here is a love affair just in time for the fall season. Pumpkin, muffin love.
Keeping with the seasonal theme; check out this liberty bell and falling autumn leaf hand tattoo Tim did.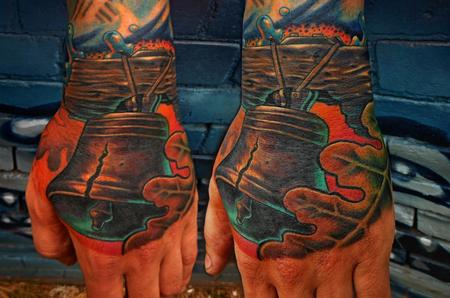 Off the Map LIVE is webcast every other Sunday from Off the Map Tattoo in Easthampton Massachusetts! Check out past episodes on our YouTube channel, and visit TattooNOWTV.com for more info.