Friday December 9, 2011
Give the Gift That Lasts a Lifetime!
You really can't beat tattoo gift certificates as gifts! Lets look at the facts:
You can't buy the wrong size.
No long lines, or mall parking to deal with.
Rather than buying an expensive technological device that will surely be outdated in 6 months, their tattoo will stick around for life.
Unlike gift baskets, you won't gain holiday weight from tattoos.
With every tattoo you get at Off the Map, you get a whole lot of AWESOME for free!
Off the Map Tattoo offers gift certificates in any denomination for the holidays! Tattoo gift certificates are the perfect gift whether someone is an avid tattoo collector or looking to get their first custom tattoo. We have 4 resident tattoo artists, and 40+ guest tattoo artists per year you can choose from!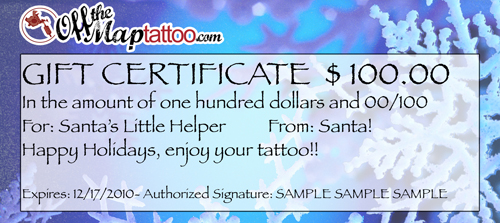 Gift certificates can be used for ANY of our amazing custom artists. So swing on by, call to place an order over the phone or order them through our online catalog and have them mailed to you! How easy is that? Shop right from your couch! Feel free to stop by anytime to chat with us our pick up a gift certificate or two!
Off the Map LIVE is webcast every other Sunday from Off the Map Tattoo in Easthampton Massachusetts! Check out past episodes on our YouTube channel, and visit TattooNOWTV.com for more info.