Tuesday October 11, 2011
Nick Fener Benefit This Saturday in Oxnard, CA
Nick Fener's story is one that you can't help but be captivated by. I caught wind of the events that occurred to Nick on May 20th through a few Facebook posts, and have since followed the story. Excerpts are all from NickFener.com, where his wife, who is clearly his absolutely dedicated life partner, posts almost everyday. This was a portion of the very first entry.
"On Friday, May 20, Nick was flying camera for a tandem. The jump went fine but at about 100 feet Nick's canopy partially collapsed, causing him to fall to the ground. It's unknown what caused the canopy to collapse. Nick survived the crash and is in stable condition, but suffered major injuries."
This photo is from what was dubbed "Fener's Final Foot Shoot." The photo was taken before they made the decision to have both of Nick's feet amputated, as it was the best bet for Nick walking again.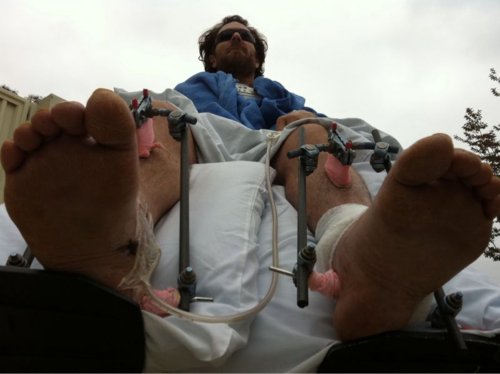 It's always amazing to see the outpouring of support that happens in cases like these. It was particularly special to see the outpouring of support from the tattoo community led by Carson Hill, a friend of Nick's. Carson, his sister, and Jared Driscoll of Fusion Ink have put together a live art auction with all the proceeds benefitting Nick and his family. If you happen to be in the Oxnard, CA area, you should definitely swing by. Rumor has it some of these amazing pieces of artwork are starting as low as $100 and. You can't beat well priced art, for an amazing cause.
"Have I mentioned what loving, selfless, committed friends we have? Yeah, we have some of the best EVER!

This Saturday, October 15, our friends Carson Hill, his sister Monica Hill and friend Jared Driscoll are hosting an Art Auction Benefit at their tattoo studio in Oxnard. Carson is a world famous tattoo artist and all around cool guy. Nick helped teach him how to skydive and became instant friends. Using his influence in the art community, Carson and Monica have collected dozens and dozens of custom art pieces from their friends across the country. They've collected everything from paintings, to prints, drawings and tattoos to raise money for Nick's recovery.

So this Saturday, at their studio they are hosting a live auction with all these beautiful collected pieces. There will be drinks, live music by "Alive at 27" and a super cool vibe.

The fun starts at 6:00pm

Neuma Studios

2451 Eastman Ave, Suite 1

Oxnard, CA 93030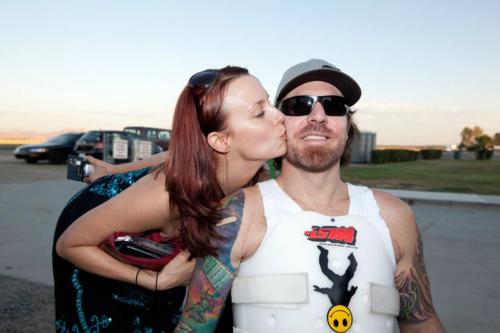 If you can't make it to this event you can also CLICK HERE to send a general donation. Totally broke, but want to help anyways? You can send Nick a message of encouragement, a funny story, a picture to make him smile, or anything you want RIGHT HERE.
Off the Map LIVE is webcast every other Sunday from Off the Map Tattoo in Easthampton Massachusetts! Check out past episodes on our YouTube channel, and visit TattooNOWTV.com for more info.