Friday September 30, 2011
Star Wars Vs. Dinosaurs Art Show!
Next Saturday, October 8, in correspondence with the
Easthampton Art Walk
that happens that second Saturday of the month,
Teresa Sharpe
and Off the Map Tattoo are please to present the art show Star Wars VS. Dinosaurs. Join us for a night of amazing art and atmosphere as we celebrate 2 of History's greatest Time Periods.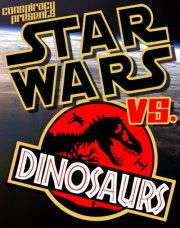 Star Wars vs. Dinosaurs features art that combines imagery from both the Jurassic time period as well as events happening a long time ago in a galaxy far, far away.
Art by:
Teresa Sharpe www.teresasharpeart.com
Chris Dingwell www.chrisdingwell.com
Shaun Malinowski www.welcometogoodstuff.com
Bob Storey www.fortwasteindustries.com
Kole Christlieb www.facebook.com/kole.christlieb
Teague Mullen www.facebook.com/olskull
Michael Mankin www.facebook.com/radrevmike
Joe Woodfin
Jacob Sauer www.gigposters.com/designer/71893_Jake_Sauer.html
Nate Utesch www.nthnl.com
Nathan Evans
Jesso Lange www.artjesso.com
Paul Robinson http://www.facebook.com/pages/Mostly-Harmless-Vinyl-Customs/176194855749485
and More.
Off the Map LIVE is webcast every other Sunday from Off the Map Tattoo in Easthampton Massachusetts! Check out past episodes on our YouTube channel, and visit TattooNOWTV.com for more info.