Tuesday October 31, 2017
TATTOOS FOR EQUALITY BENEFIT DAY NOV 19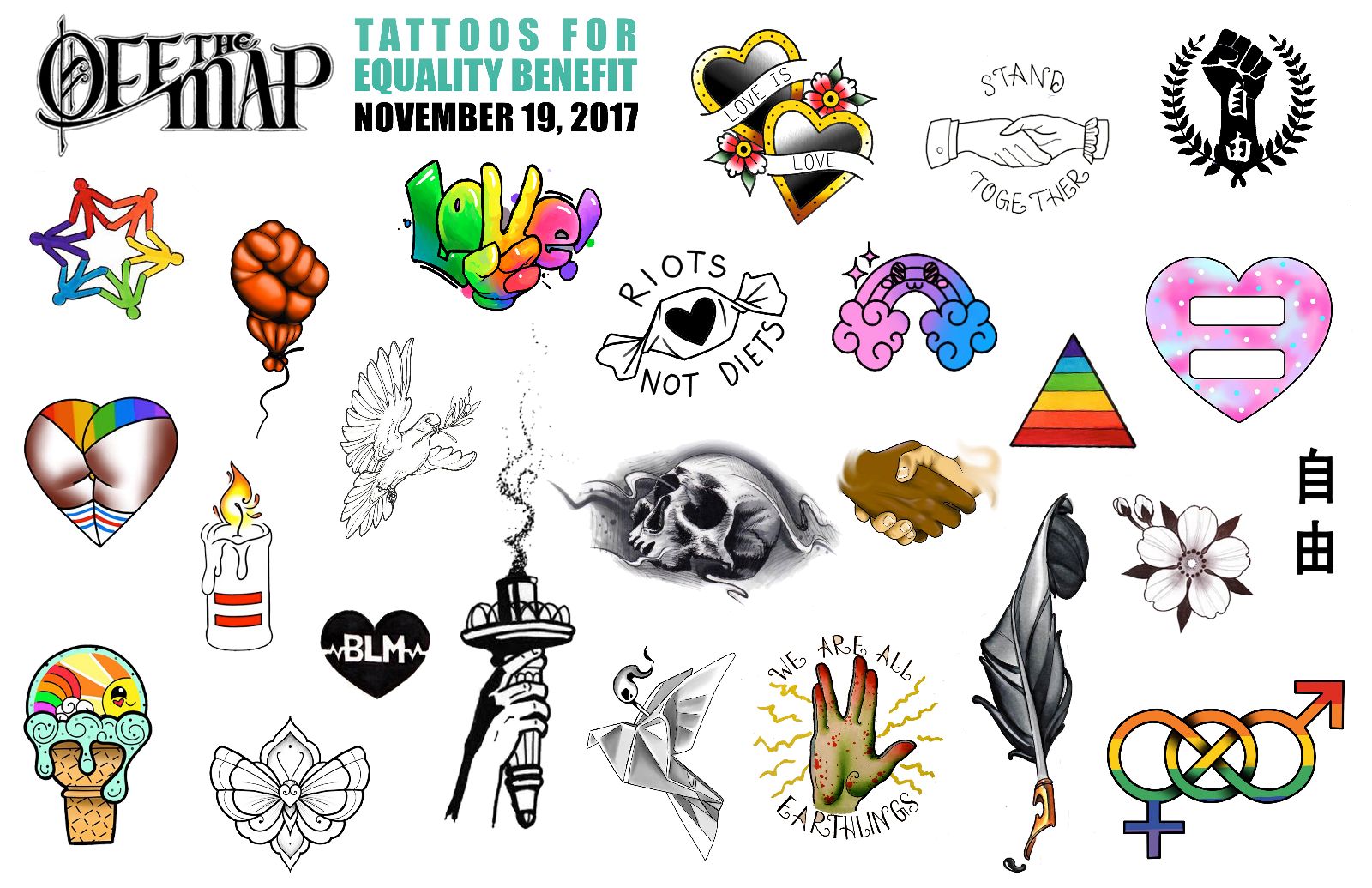 Since 2010, Benefit Day has been one of the yearly highlights at Off The Map Tattoo. Tattoos from this flash sheet will be $100 each this year, and 100% of the proceeds will be donated to the National Coalition Against Censorship, meaning that for every tattoo made, $100 will be donated. The National Coalition Against Censorship (NCAC) is an alliance of more than 50 national non-profit organizations, including literary, artistic, religious, educational, professional, labor, and civil liberties groups. NCAC's mission is to promote freedom of thought, inquiry and expression and oppose censorship in all its forms. NCAC is unique in that they are national in scope, but often local in their approach. For more information, visit http://ncac.org/about-us
Flash designs were created by Off The Map Tattoo resident artists Tim Senecal, Haley Gogue, Sydney Beene, Mark Tousignant, Nicole Laabs, Laura Jade, Oleg Turyanskiy, Matt Driscoll, Bri Howard, Gabriel Londis, Ben Licata, Maximilian Rothert, Justin Wayne, Asia Rain, Tyler Chaney, Dee Soto, Ryan Muldoon, Ed Lott, Jeff Gogue, Gao Feng, and Kellsey Mull.
Due to the high demand of previous walk in events, we will be picking tattoo clients
with a lottery. Tickets will be given out when you arrive, starting at 9:00 AM. Clients will be picked from a drawing as tattooers are ready. This means the earlier you show up the more opportunities you have to get tattooed, but no need to camp out the night before! With 15 artists working, we will be able to tattoo more people than previous events.
Off the Map LIVE is webcast every Monday from Off the Map in Easthampton Massachusetts! Check out past episodes on our YouTube channel, and visit TattooNOWTV.com for more info.