Monday September 26, 2016
New England News: Surface and Space by Guy Aitchison and Adam France
Surface & Space
A dual art show presenting the recent art works of visionary artists, Guy Aitchison and Adam France.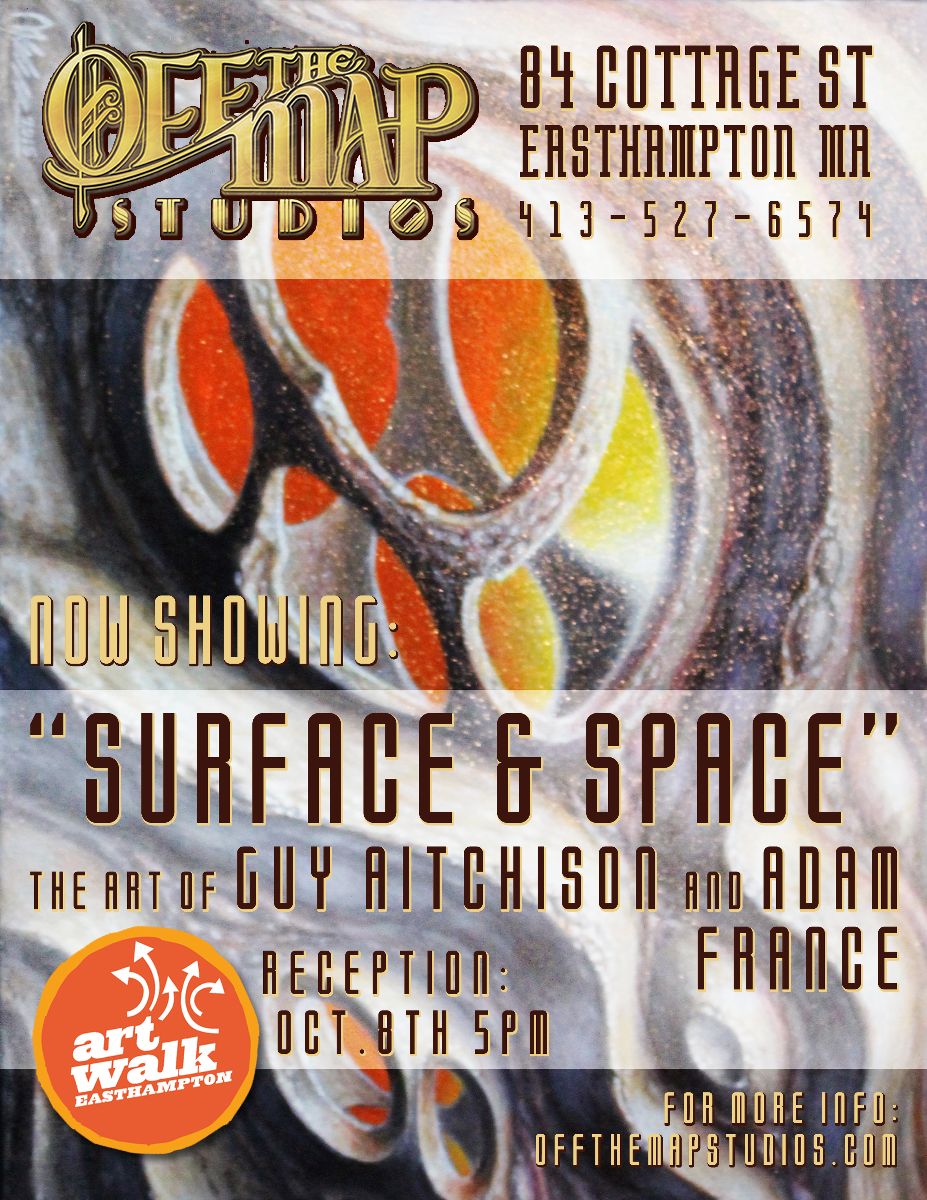 Join us for a reception On Saturday, October 8th from 5:00 p.m. to 8:00 p.m. in conjunction with Easthampton's Art Walk.
Guy and Adam will both be busy tattooing during the event, but we have confirmation that they will both be here via Skype during the evening's festivities!
Of course, there will be loads of OTM giveaways; with free gift certificates to each attendee through the door. We will also be offering light catering courtesy of Milltown Deli, and vegan snacks from Bri McInerney(@leporids on Instagram-if you don't know, now you know!) and, as always, a selection of tasty beverages.

Off the Map Studios
84 Cottage Street
Easthampton, MA 01027

"My work is intended not to tell a story, but to elicit a response. On the surface, my goals are simple: I want to make works that are visually beautiful and intriguing, just to get the viewer's attention. From there, I hope to establish a presence in their imagination that acts as a key, allowing them to visualize whole new visionary realms. All art does this to some extent, so I take this responsibility seriously and aim to provide new templates of places that are enjoyable to imagine." – Guy Aitchison

Having tattooed now for 18 years and coming from a family of artists, Adam France enjoys creating large bio-organic / robotic transformation projects. He takes huge influence from surrealistic psychedelic influences, aliens and outer space.
Off the Map LIVE is webcast every Monday from Off the Map in Easthampton Massachusetts! Check out past episodes on our YouTube channel, and visit TattooNOWTV.com for more info.