Sunday December 27, 2015
New England News: 10 Tattoo Giveaway Winners Announced!
Hot Damn! Our artists have chosen the winners of our recent 10 TATTOO GIVEAWAY contest!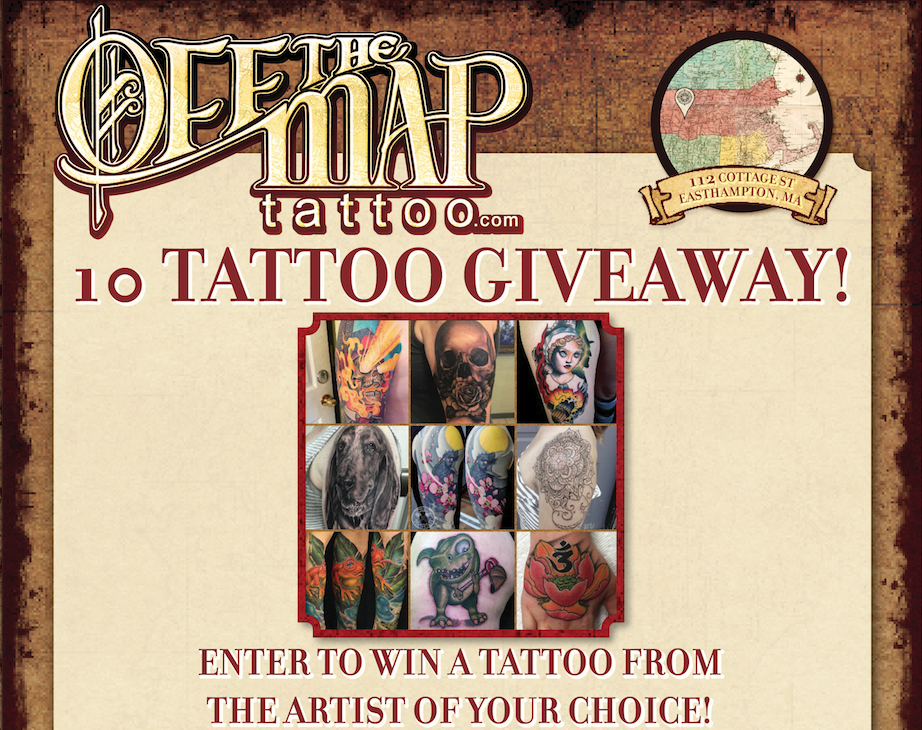 We were so excited to have over 200 of you join us at our 10 year anniversary party and we can't thank you all enough for your support. Here's to another 10 years! Without further adieu, we present you with our winners!
Oleg Turyanskiy will be tattooing a Buddha inspired tattoo on Jennifer S.
Gao Feng will be tattooing a watercolor floral/dragonfly tattoo on Jill.
Matt Driscoll will be tattooing a Goliath beetle on Alexandra T.
Joe King will be tattooing a geometric floral mandala on Gina P.
Gabe Londis will be tattooing an evil Sphinx portrait with a mouse skull frame on Taryn Z.
Frank Ready will be tattooing an X-Files mash up tattoo on Kelli S.
Josh Suchoza will be tattooing Peewee Herman's bicycle (with a "danger spiral") on Lori L.
Max Rothert will be tattooing an oyster w/ pearls on Maisie K.
Tim Senecal will be tattooing a road kill possum on Amber K.
And the MYSTERY PRIZE winner is Steve V!
We were thrilled to have reoccurring guest artist Mikey Har jump on board for the party and offer up a free tattoo to a lucky winner as well! Mikey will be tattooing the story of St. Francesca on Brie M!
We have contacted all of the winners via phone and we can't wait to show off their new custom tattoos as they are completed! Stay tuned for exciting news and promotions from us in the New Year as we look forward to tattooing the masses with phenomenal custom works of art. Don't forget we offer free consultations everyday and we have Walk In Tattoo availability every Saturday! We hope to see you in the studio soon. Cheers!
Off the Map LIVE is webcast every Monday from Off the Map in Easthampton Massachusetts! Check out past episodes on our YouTube channel, and visit TattooNOWTV.com for more info.