Sunday November 1, 2015
New England News: Stellar Guests, Charity Day, Spanish Seminar Week, Oh my!
While October went by way too fast, we must say we are super excited about the amazing guest artist roster & events that November has in store! Between regular guest spots, our annual charity day & Spanish Seminar Week, it is going to be a busy and exciting month here in Easthampton! Kicking things off, let's introduce our guests!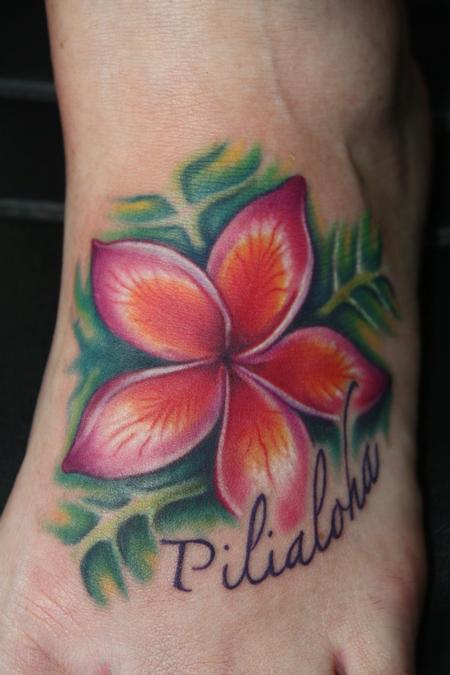 Madison Casey (above pictured tattoo) is here through November 8th and has availability throughout this coming week. While Madison is down to tackle any tattoo ideas you have in store; he especially enjoys doing custom traditional Japanese influenced tattoos.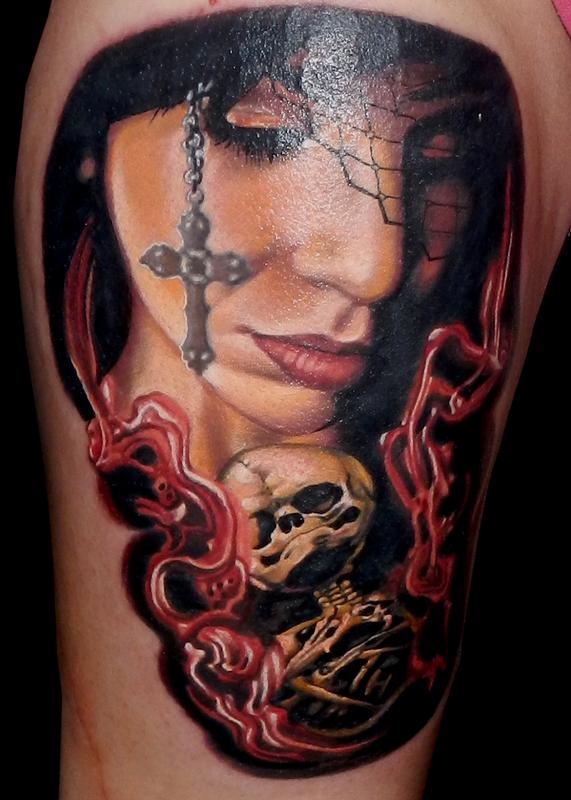 Next up, we are pleased to welcome Soma Zold (above pictured tattoo) from the 9th through the 14th. Soma spends time tattooing in Budapest, Germany & Switzerland. Soma creates beautiful realism tattoos and it would be silly of you to miss your chance to book in with him while he is our guest. Contact him now with your tattoo ideas!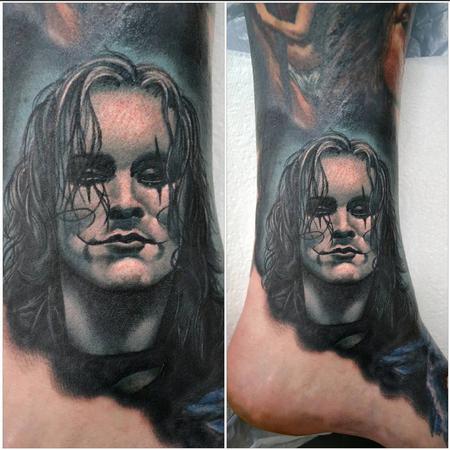 Speaking of awesome realism tattoos, Alan Aldred joins us from the UK November 16th – November 20th. Alan especially enjoys realistic tattoos based on classic horror films from the 30's and 80's. When he isn't tattooing in the horror genre, Alan also enjoys doing realistic wildlife and floral tattoos; not to mention bright, bold traditionally inspired tattoos!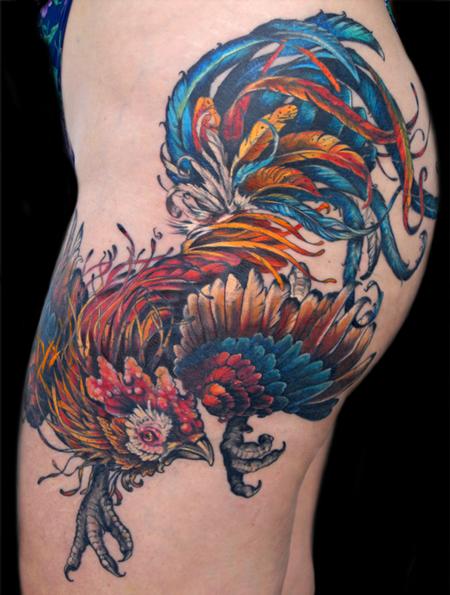 November 17th through December 2nd, we welcome back regular guest artist, Aubrey Mennella (above rooster tattoo) Aubrey is nearly booked for this round at the studio but is happy to consult with you about potential future projects! You can email her directly or give us a call at the studio to set up a consultation appointment with her.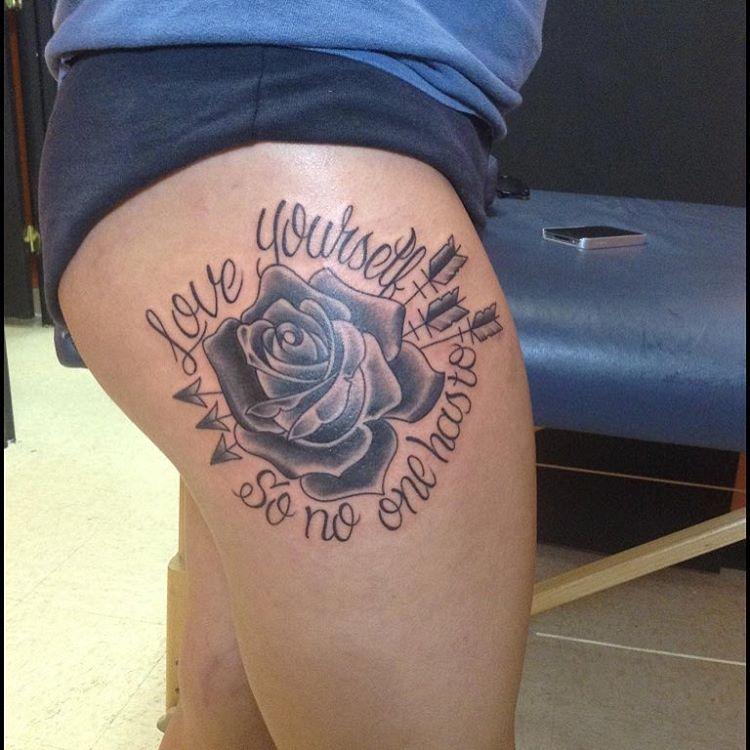 Zachary Desautels (above pictured tattoo) will be our guest November 21st – 23rd. Zachary is currently tattooing here in Massachusetts and it's always super exciting to welcome our neighbors as guests!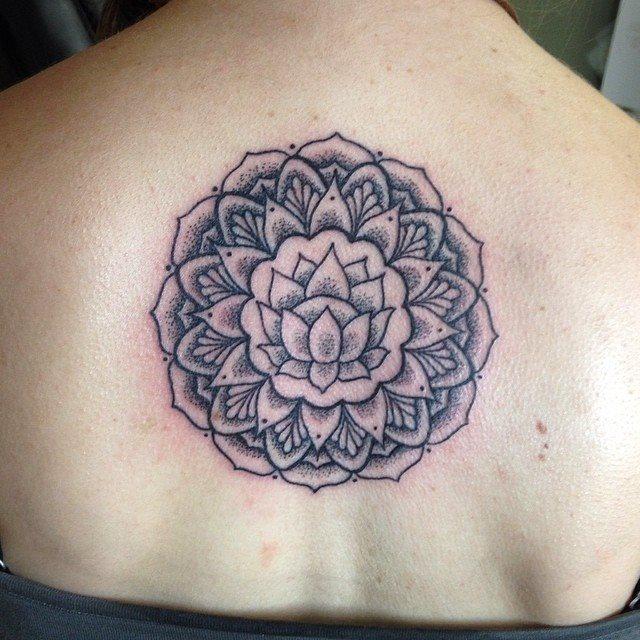 Rounding out the month, Benjamin Jenness joins us from New Hampshire from November 24th – the 28th. Benjamin specializes in geometric tattoos as well as dotwork and blackwork. You can email Ben directly or give us a call to chat about your tattoos ideas and to book an appointment.
Woah! If the stellar guests aren't enough excitement for you, we are hosting our sixth annual charity event on Sunday, November 15th! This year's theme is Tattoos for Toys! We will be doing $50 toy themed flash tattoos all day, with 100% of the proceeds going to local charitable organizations that provide toys to children in need, for the upcoming holidays. You can view all of the event details here. Don't forget to invite your friends and help us spread the word! We hope you'll join us for a fun filled day of tattoos and charity!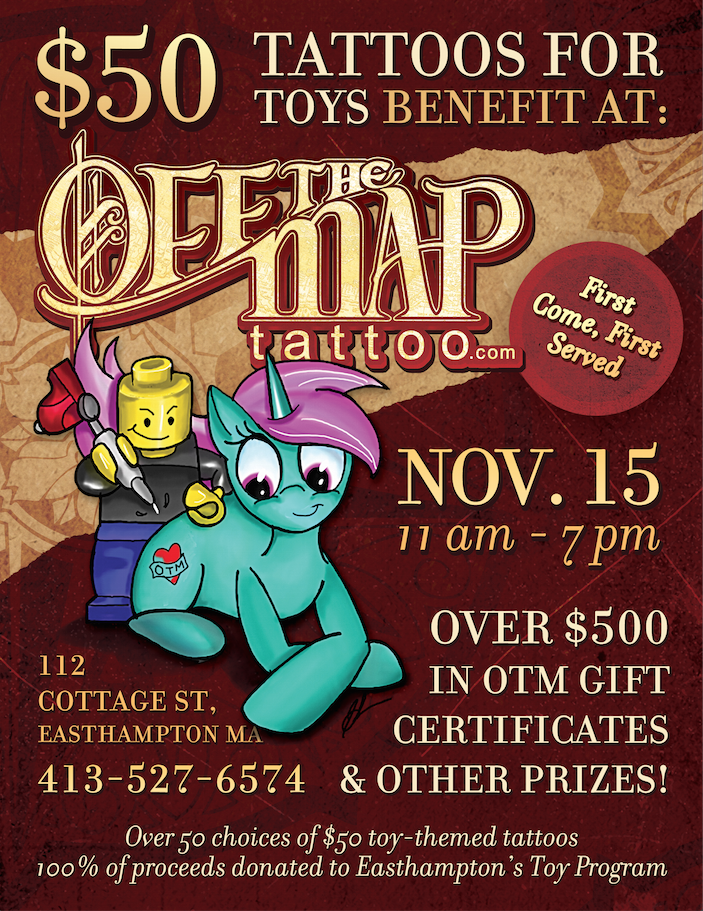 Still with us? Great! Last, but certainly not least, we have a supreme roster of tattooers coming into town to teach and tattoo for our upcoming Spanish Seminar Week! This is an event featuring some of the top Spanish speaking tattooers in the industry, which will be webcasted for worldwide access. We are thrilled to be welcoming these supremely talented artists; Carlos Lopez, Juan Salgado, Rember, Stefano Alcantara & Yomic Moreno! Potential tattoo clients can email these artists directly by clicking their name and following the link to check in about their availability while they're here, November 19th though November 23rd. Stayed tuned for more in depth coverage of all of November's excitement!
Off the Map LIVE is webcast every Monday from Off the Map in Easthampton Massachusetts! Check out past episodes on our YouTube channel, and visit TattooNOWTV.com for more info.