Thursday February 12, 2015
Northwest News: Jon Highland is Here!
Guest Artist Jon Highland is visiting Grants Pass today and tomorrow from 12 Monkeys Tattoos in Tracy, California. We got a chance to sit down with him as he and resident Canyon Webb work on a collaboration painting in the shop today and pick his brain about a few questions.




We asked Jon why he comes to guest spot at Off The Map Tattoo, and he says he comes for inspiration: as the owner of his shop, he knows his artists look to him for inspiration, and between shows you need to make your own inspiration. It's a trickle down effect. So he finds extra inspiration from artists here when he visits and helps pass that inspiration on to his own studio.
We learned that Bio-mechanical is his favorite style of tattooing, and everything lends itself to that. He loves tattooing skulls and flowers, and would tattoo those all day long, but really loves bio work. If he could, he would love to do a large-scale back piece for the right person also.
We asked when he first figured out he wanted to start tattooing, and he told us he never really figured that out; he mostly was forced into it by friends. His friends came to him for drawings that they wanted to have tattooed, and eventually convinced him to just start doing the tattoos himself. He is 100% self-taught, and credits a Jeff Gogue painting seminar with Cory Norris and Canyon Webb one of his only "art training" sessions.

Oil painting is Jon's favorite medium, though he does a smattering of everything from photography to painting to sculpting as well as tattooing. He mentioned that he'd really like to give watercolor a go as well.

Jon will be doing 2 conventions so far this year: the Lady Luck convention in March and the Silver State convention in May.

We also learned that Jon has an awesome sense of humor, tells great stories, has 2 dogs, Sophie and Casey, and a cat named Skittles, and his favorite color combinations are pink/grey, black/purple, and black/bright green.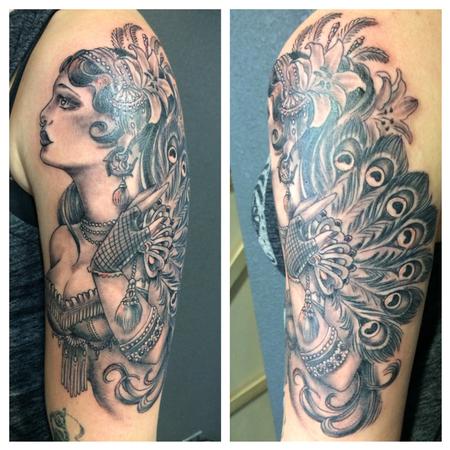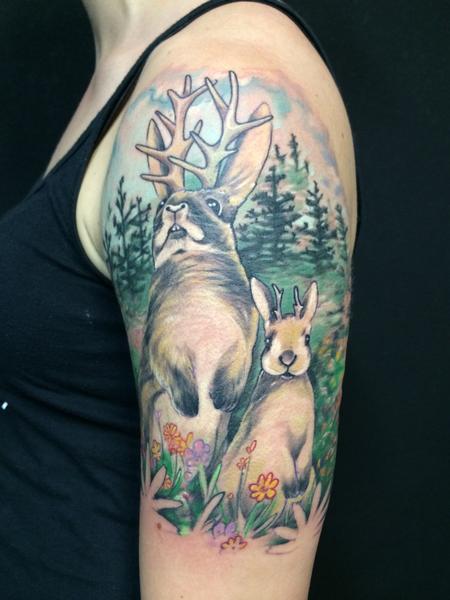 It's a pleasure to have Jon guest spotting with us this week! If you are interested in finding a spot with him while he is here, contact us at (541) 244-1141.
Off the Map LIVE is webcast every Monday from Off the Map in Easthampton Massachusetts! Check out past episodes on our YouTube channel, and visit TattooNOWTV.com for more info.