Monday December 1, 2014
New England & Northwest News: Cyber Monday Extension on Gift Certificate Sale!
We know this weekend you were pummeled with all sorts of different promotions and sales, and we want to make sure we are fair to any of you who may have been too busy to noticed our awesome sale.
If you purchase a $100 gift certificate you will get a $50 gift certificate for FREE!
Use it all for yourself, split it up as gifts, whatever you prefer! No strings. Just an amazing deal. This is limited ONE PER CLIENTand can be used at any location with any artist including guests. You can purchase gift certificates online (promotion will be automatically applied), over the phone or at the shop.
Feel free to call with any questions!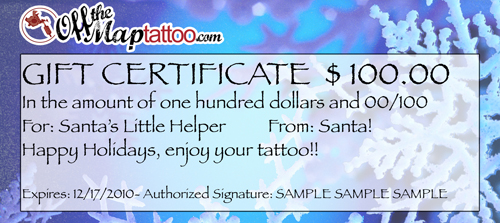 Off the Map LIVE is webcast every Monday from Off the Map in Easthampton Massachusetts! Check out past episodes on our YouTube channel, and visit TattooNOWTV.com for more info.