Wednesday February 12, 2014
Latest from Off The Map LIVE!
Guy Aitchison and Jeff Gogue collaborate on a one of a kind custom sleeve tattoo!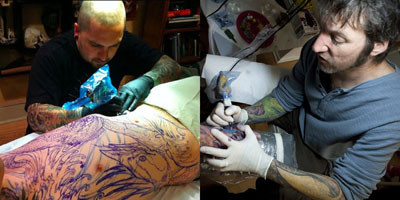 Almost 6,000 people tuned in on Sunday to watch Guy Aitchison and Jeff Gogue collaborate. The chat room was booming with tattoo artists, collectors and enthusiasts from around the world. Chatters from Europe ended up staying up through the night and into the morning for the 11 hour collaboration. Collector Matt sat like an absolute stone through the process. Guy and Jeff will be finishing it up at Hyperspace in the future.
It was great to see artists from around the world listen and watch as Guy and Jeff discussed techniques, equipment and general banter. The chat room was alive with participants sharing their instagrams and creating their own community. The 3 day event turned into quite an endurance marathon for both Jeff and Guy showing why they are at the top of their games.

Guy Presents Optimizing your use of Value and Color


After the marathon collaboration Guy got a little bit of sleep and prepared for another long day of tattooing and education. Guy's webinar titled "Optimizing your use of value and color" involved Guy's famous bio organics and color work. Through out the tattoo Guy took questions from the chat and discussed developing ones style, career and techniques he's learned over his career. The chat room stayed with Guy late into the night finishing up the 9 hour first session.
Jeff Gogue Presents: Size Doesnt Matter Hand Tattoo Seminar


The next day Jeff took his turn doing a class focused on small canvas's by tattooing non other than Guy's hand. Jeff took his time to describe how he plans new tattoos into existing work and how he builds his reference material. People in the chat room asked questions such as helping change their rates, or developing their own style and finding collectors for that work. The 4 hour tattoo also had Jeff discussing his equipment and his drive to keep trying new things.
If you missed out, you'll have to wait until next month when the on demand recordings are put up. Be sure to subscribe to our Youtube page to be updated when we upload new content. You can also subscribe to our Ustream account and get the notifications for our live shows Off The Map Live and Hypercast!
Off the Map LIVE is webcast every other Sunday from Off the Map Tattoo in Easthampton Massachusetts! Check out past episodes on our YouTube channel, and visit TattooNOWTV.com for more info.