Thursday January 30, 2014
Northwest News: Guy Aitchison and Jeff Gogue Webinars & Live in shop Seminars
GUY AITCHISON AND JEFF GOGUE FEBRUARY WEBINARS
Recent years have seen huge debates between tattooers about whether modern technology adds value to tattooing. Are all new products improvements or are we losing vital artistic skills?
Therefore, it is so refreshing to see technologyused in such a way that no one can deny that it adds value to tattooing. An age old skill meets the height of modern technology.
The use of webinars allows you, as an artist, to learn from fellow tattooers without the need to leave the comfort of your own home. It's a win/win situation where you do not need to close your studio for days and bear the cost of extensive travelling; artists that you know and respect are made available to you without the need to leave the house.
Off the Map are pleased to offer you the opportunity to buy one of a limited number of places available for a three day webinar extravaganza.So, what will you get over the three days?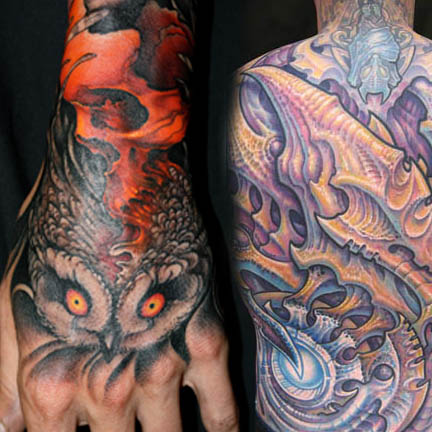 It all kicks off on February 9th with a webcast that is live and free (oh yeah, free!)to the public at www.TattooNOWtv.com. This is not about in-depth technical details of tattooing but will cover a variety of issues that are faced by Jeff Gogue and Guy Aitchison when they set about designing and executing large tattoos. It will be a collaboration, seeing these artists working on a sleeve project. Watch as they fuse together traditional Japanese elements alongside cutting-edge techniques. Not only will you be able to get a rare glimpse inside this high-energy creative process but you can ask questions, which will be answered during the seminar.
It doesn't get more up close and personal than this!
On February 10th at noon (Pacific Standard Time - USA & Canada), the king of bio organic tattooing, Guy Aitchison, brings you "Structure: Optimizing Your Use of Value and Color ".
Probably more so today, than ever before in the history of tattooing artists are striving to make their tattoos clearer, stronger and more easily readable. Again this is an issue brought to the fore by the advances in inks and the popularity of tattoos in modern society.
In this webinar Guy will demonstrate how you can use design to your advantage and how your execution of a tattoo can increase the graphic contrast in the final piece.
He will start with the layout and use of stencils, and follow this with a live tattoo demonstration, focusing on the subject of contrast. This webinar will allow you access to Guy's experiences and knowledge, and a personal insight into how he strengthens his work and how you can strengthen yours. There is an interactive element within this process, in that student questions will be answered during the webinar.
Then on February 11th at noon (Pacific Standard Time - USA & Canada), world famous tattooer: Jeff Gogue brings you"Size doesn't matter… Hand tattoo"
When asked why the title of this webinar, Jeff said "Whether I am laying out a full back piece, a sleeve, a leg, a head or a hand, I focus on the entire "canvas". Whatever it may be."
During the webinar he will share how he uses those proven tools of design and flow to create a successful piece of art. He will explain how he feels that sometimes as artists we overlook the basics in our attempts to produce something new and exciting. How often have we heard about tattoos being done "for the photo"? Again that modern technology of social media means that tattoos are "out there" within minutes of their conclusion and this has become the excitement we crave.
Jeff will talk to you about going back to basics, whatever size piece you are doing; and concentrate on those fundamentals of doing what you know works and to get good at that. He believes that the excitement you seek will follow, in other ways. Jeff will share with you his thoughts about transition, size, placement, and those other key elements that result in an intriguing, pleasing and above all, insightful tattoo.
To demonstrate to you all how he puts these personal tattooing values into practise Jeff will be tattooing Guy Aitchison's hand. Whilst doing this he will explain his thought processes as the tattoo progresses and he will also be answering your questions from the chat room.
So if you are looking for that training and education opportunity that will add value to your business for a mere $300.00 and greatly add a deeper understanding of creating a wonderful tattoo, then more details can be found at: http://www.tattoonow.com/Webinars-and-Webcasts/Live-Events/
What are you waiting for? Come join us on a journey of dermal discovery!
Off the Map LIVE is webcast every other Sunday from Off the Map Tattoo in Easthampton Massachusetts! Check out past episodes on our YouTube channel, and visit TattooNOWTV.com for more info.