Upcoming Events

Northwest Event: 1 Year Anniversary, Client Appreciation, and Mr. Jones Welcoming Party!

We're thrilled to be hosting our 1 year anniversary party Saturday, March 9th at 7pm and doubly excited to also be celebrating our wonderful clients along with welcoming our newest full time addition to the team, Mr. Jones! It's hard to believe that it's already been one year since Off the Map Tattoo joined forces with Jeff Gogue and we look forward to many more years to come.

This past year has been amazing and we owe it all to you, our wonderful clients! To celebrate we will be giving away $25 Gift Certificates to the first 10 people through the door and $10 Gift Certificates to everyone else as well as a $250 Gift Certificate for our Best Tattoo Idea Contest! We'll be holding a raffle with some awesome prizes including artist prints, T-Shirts, Dutch Bros. gift cards, Wild Rose Herbs gift sets, and plenty more!

We'll have live music by Jared Masters and amazing catering by our good friends at Fulcrum Dining and though some adult beverages will be provided we strongly encourage folks to B.Y.O.B.! Don't miss this chance to celebrate with us, check out the new art we have on display, and chat with new hire Mr. Jones! See you all there!!!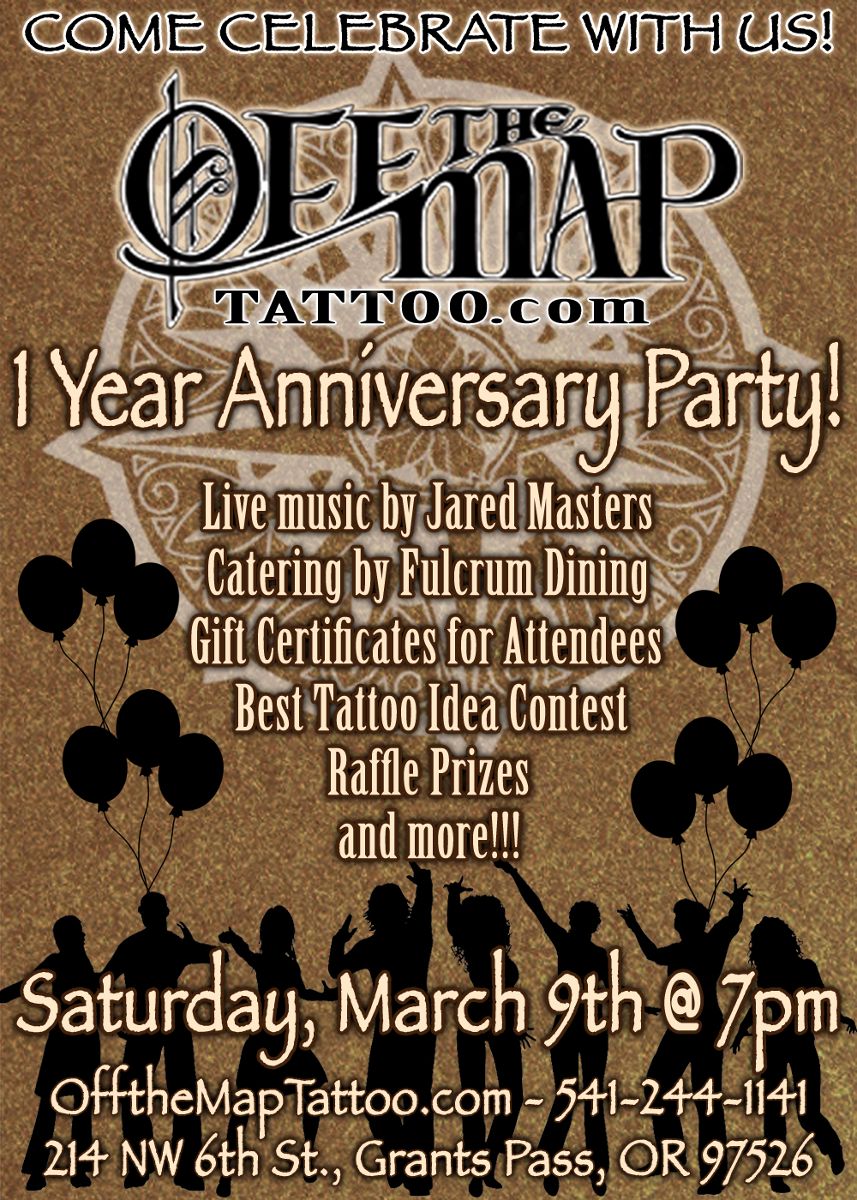 NORTHWEST EVENT: THE SOUTHERN OREGON CUSTOM CLASSIC, Friday September 7th, 7-10pm

Join us on the evening of September 7th from 7-10pm as we host The Southern Oregon Custom Classic, a bicycle themed gallery show curated by none other than our good friend Nicki Kasper of Tattoo Artist Magazine! The first 10 people through the door will receive a $25 OTM gift certificate and one lucky winner will get a $250 gift certificate for the Best Tattoo Idea Contest!



On display will be about 20-25 custom built bikes and bike themed paintings by Jeff Gogue, Christopher Gay, Tom Strom, Mark Hannah and Canyon Webb. We will have Fulcrum Dining catering the event with tasty snacks as well as Oregon based beer brewers Ninkasi present with beverages.



This event is FREE and will take place at our Northwest location: 214 NW 6th St., Grants Pass, OR. Feel free to call with any questions (541) 244-1141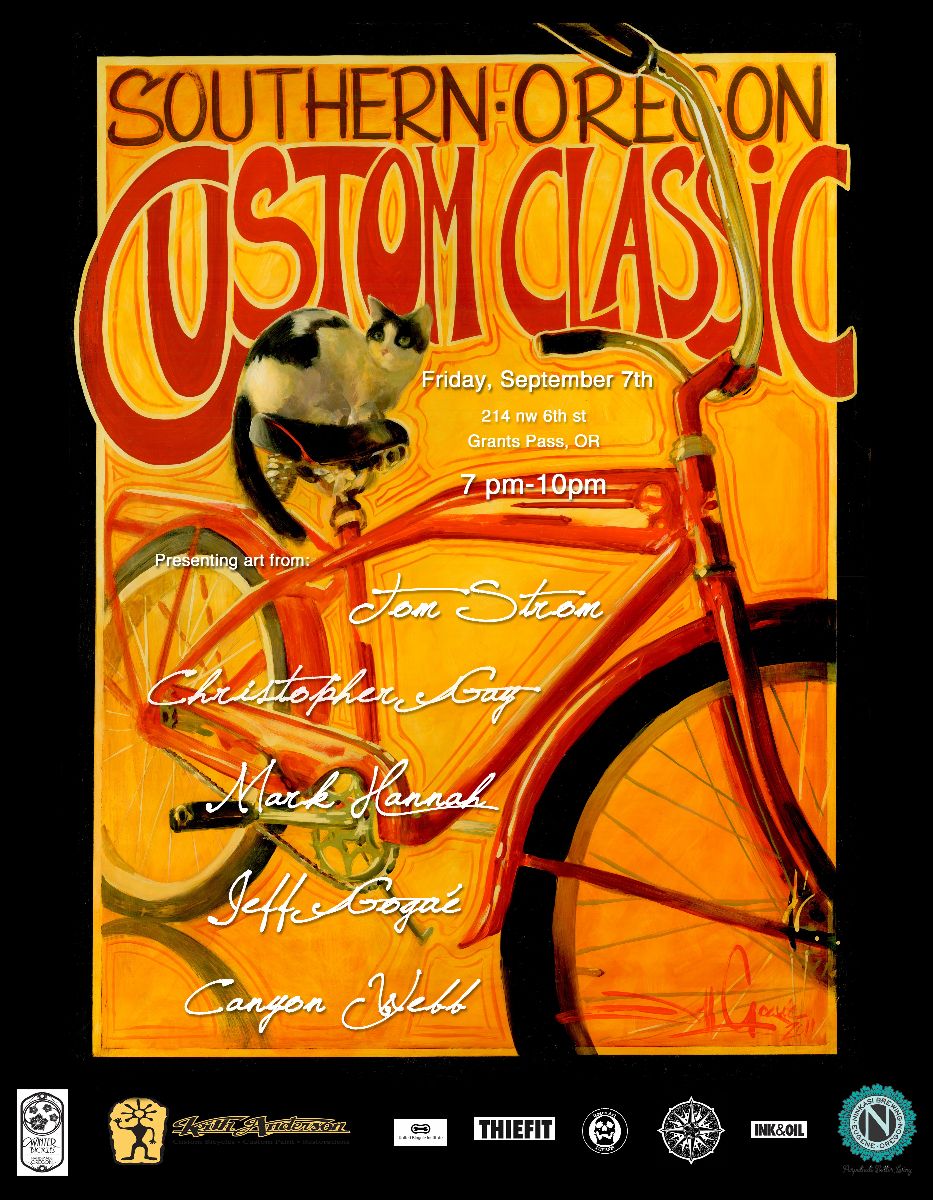 NEW ENGLAND EVENT: SATURDAY JUNE 2: ALL AGES! WELCOME JOE KING TO OFF THE MAP TATTOO! NO COVER!

Join us at Luthiers Co-op right next door to the studio to welcome the newest member of the Off the Map Tattoo staff, Joe King. We will have $25 gift certificates for the first 10 people through the door as well as a $250 prize for the best tattoo idea contest! This venue is all ages, and there is beer and wine available for those 21+.

We will have a Jazz Trio playing from 7-9pm and Stuntman Steve and Friends playing from 9:30-??.

Come meet Joe, buy him a drink, do a tattoo consult with him and thank him for bringing his amazing talent here from Kentucky! Feel free to call the studio at 413-527-6574 with any questions!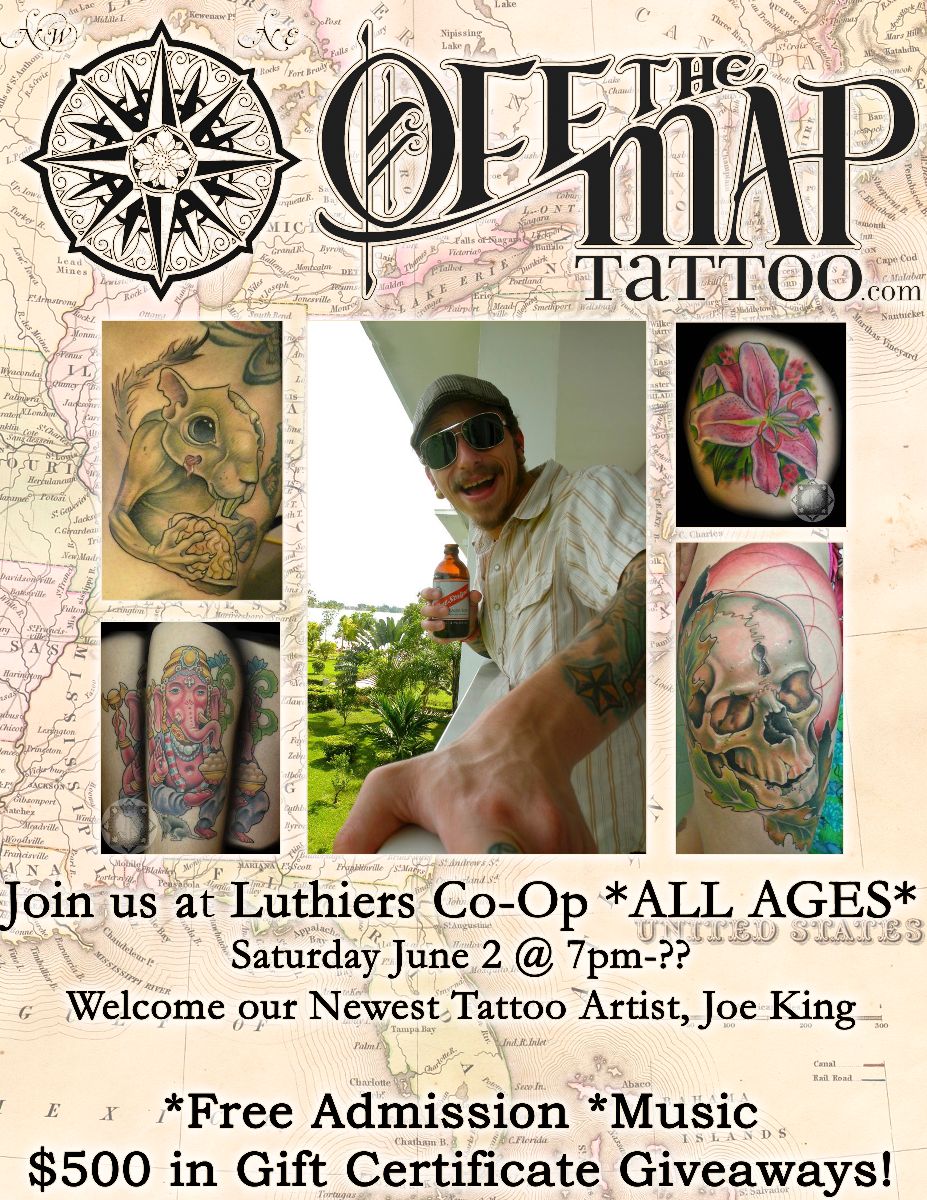 SOLD OUT: NORTHWEST EVENT: PAINTING WORKSHOP WITH JEFF GOGUE! JULY 18-19

We are excited about our upcoming 2 day painting workshop here at our Grants Pass, Oregon studio, Wednesday, July 18 – Thursday, July 19 lead by world renowned painter and tattoo artist Jeff Gogue. This event will be an intensive, hands-on oil painting workshop which covers the basics (supplies, materials, techniques) and touches on more advanced technical information including Jeff's well received and inspirational marketing strategy.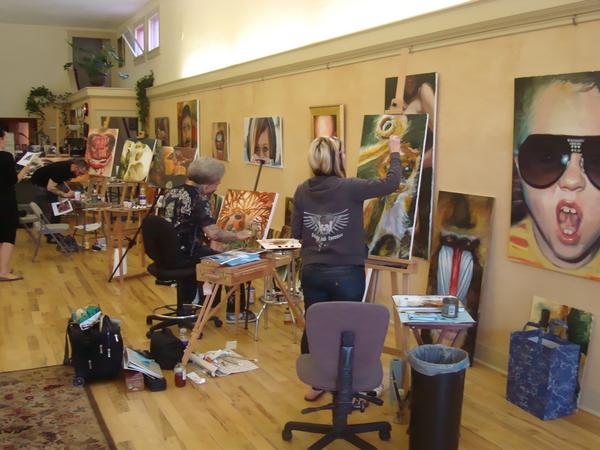 This workshop is great for the beginner as well as the seasoned vet and participants will be surrounded by painters of all skill levels. We will also be graced by the presence of some amazing tattoo artists including Tim Boor, Stefano Alcantara, Pete Vaca, Jared Preslar and many more. These workshops are life changing, more fun than you can imagine, and you will walk away with some fresh creations to show off as well as an abundance of information to utilize. The positive feedback from these workshops is tremendous and well deserved, you won't regret attending!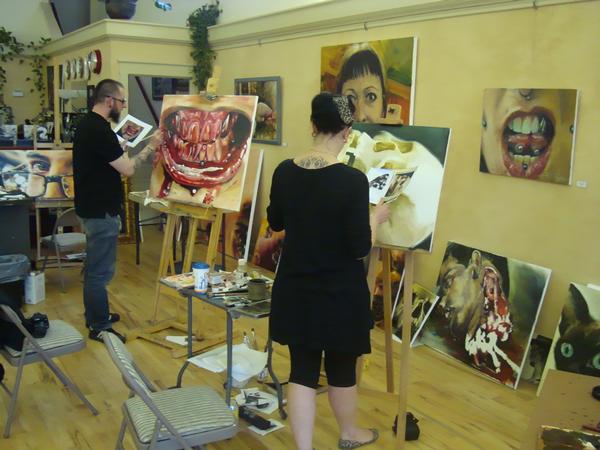 Being that these workshops are so popular we have reached our capacity and are no longer accepting new participants. We are unsure of when we will be hosting another workshop but you can be kept up to date by checking our website often and following our facebook page.

For those lucky enough to be participating we ask that you bring the following supplies:



2-3 Canvases or Panels



Brushes - #2 Round, #8 Flat, #8 Filbert, 1" Flat



Galkyd



Gamblin Colors - Prussian Blue, Transparent Orange, Alizarin Permanent, Quick Dry White,



Optional Gamblin Colors - Ultra Marine Blue, Alizarin Crimson, Van Dyke Brown, Cadmium Red Light, Phthalo Green, Ivory Black, Radiant White



A Positive Attitude



The following will be provided for you:



Various sized Clayboard and Ampersand Panels which you can purchase from us



Gamsol



Gesso



Easel



An assortment of Gamblin Colors



Inspiration



For those traveling from afar who do not want the hassle of bringing supplies with you, there is an art store down the street from us where you can purchase all these supplies from.

We look forward to seeing you all there!

Any additional inquiries can be sent to:

grantspass@offthemaptattoo.com

You can also stop by the studio or give us a call:

Off the Map Tattoo – Northwest

214 NW 6th St.

Grants Pass, OR 97526

Tuesday – Saturday, 10am – 6pm

(541)-244-1141

PAST EVENTS:

OFF THE MAP TATTOO, GRANTS PASS, GRAND OPENING! SATURDAY MARCH 10!

Join us in our Grants Pass, OR location (formally Gogue Art) to celebrate the grand unveiling of the studio as Off the Map Tattoo Northwest! We are thrilled to be joining forces with Jeff Gogue to expand out west, and we'd love to have you celebrate with us! The studio will mirror the Northeast location and will have reliable, talented full time artists as well as the guest artists!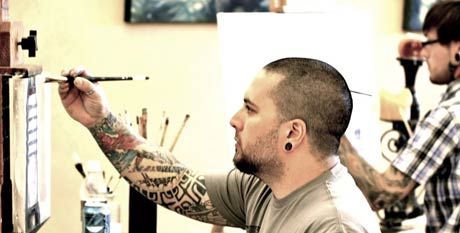 The event is open to the public and there will be art on display, beer, wine, appetizers, great company, giveaways and more! The event will be at the studio and start at 6:00PM and go, well, until the booze runs out!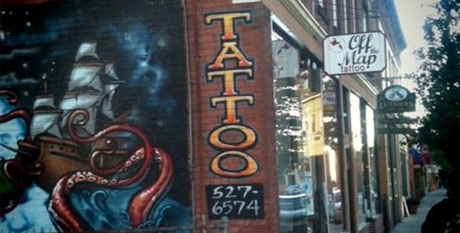 Resident Artists Jeff Gogue and Canyon Webb will be in attendance as well as some of the New England staff - including shop owner Gabriel Ripley, resident artist Kelly Doty, guest artist Teresa Sharpe & Shawn Hebrank and more! Please join the newly merged staff of Off the Map Tattoo for this very exciting time!

OFF THE MAP TATTOO HOLIDAY AND 6 YEAR ANNIVERSARY PARTY!

Come join the staff and clients of Off the Map Tattoo at the Brass Cat in Easthampton, to celebrate whatever Holiday is important to you and our 6 year anniversary! This party will have so much amazing FREE stuff it would be crazy not to attend. Not to mention the general merriment, and fun!



The event starts at 6pm and goes until they kick us out!



RSVP HERE! This event is open to the public! Even if you haven't been tattooed by us yet, come on by! Bring your friends & bring your family!



-Every single person through the door gets an Off the Map Tattoo gift certificate!



-Free catering from Hillside Pizza!



-Pin the tramp stamp on Santa! First place gets $75 Off the Map Gift Certificate!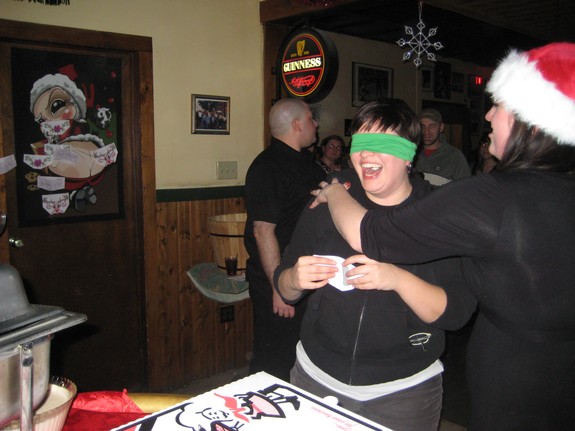 -Best Tattoo Idea Contest- Winner gets $250 towards their tattoo idea!



-Amazing Raffle Prizes including gift certificates from Bistro Les Gras, Motion Chiropractic, Hillside Pizza and the Grand Prize of a $250 Off the Map Tattoo Gift Certificate!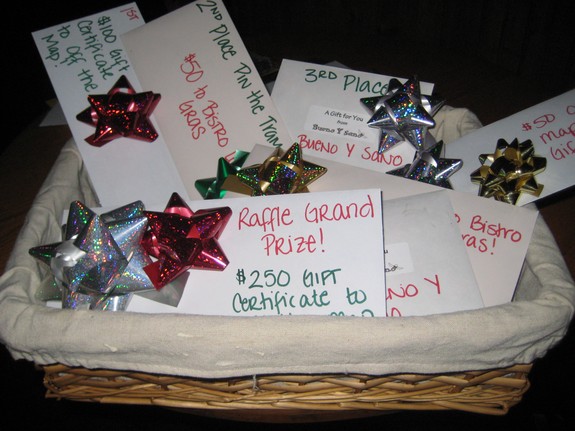 And so much more! Did we mention it's all free? No admission, no charge for raffle tickets, no cost for fun! We hope to see all of you there to celebrate with us! Tell all your friends!



To see how fun last year was, check out the facebook album!



**Unfortunately, due to the venue this event is 21+ only.

Chris Lowe's Rendering Realism with Colored Pencil- November 13

Seminar is 4 hours, $250, cost includes a free sample set of paper a copy of the Rendering in Color Pencil DVD

This workshop is designed to help you better understand the different ways you are able to work with colored pencils from layering and burnishing to more complicated blending techniques. Chris will show you the way he goes about capturing extreme realism in his art.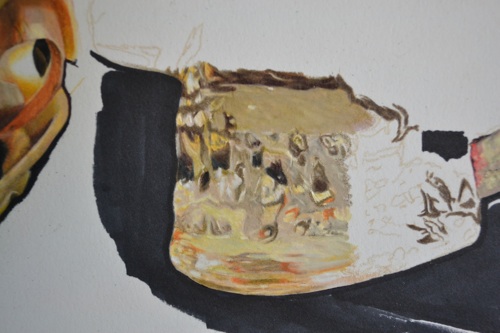 The workshop will last approximately four hours and guide you step by step to completing your own piece using his techniques. Everyone will receive a 24 set of colored pencils as well as a few sheets of the papers Chris prefers to use. Chris will also go over the benefits he has seen in his tattooing since he began working with these techniques in colored pencil.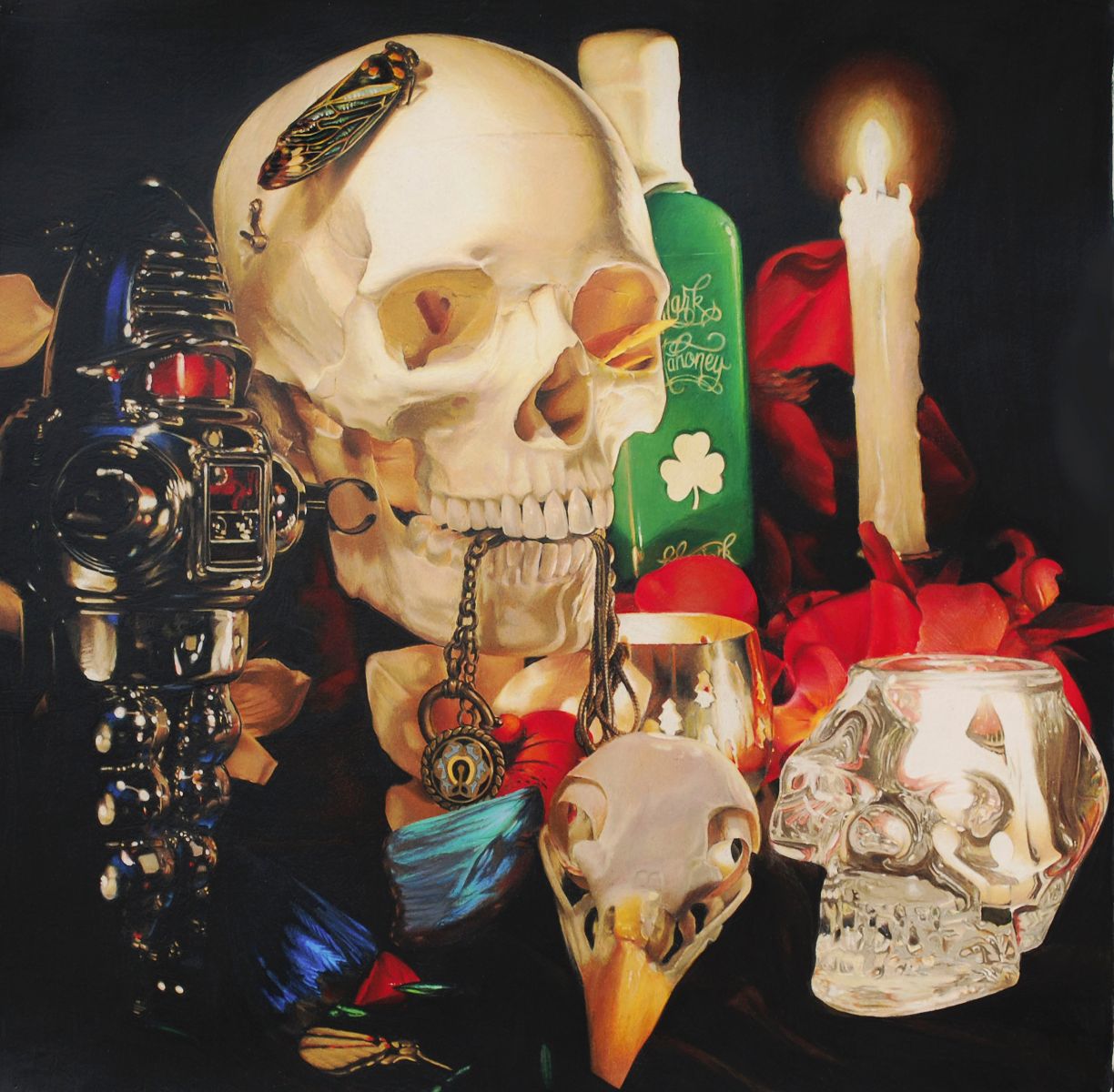 Each attendee will also receive Chris' dvd where he renders a piece from start to finish. This workshop is one you don't want to miss if you are at all interested in bringing realism into your colored pencil drawings.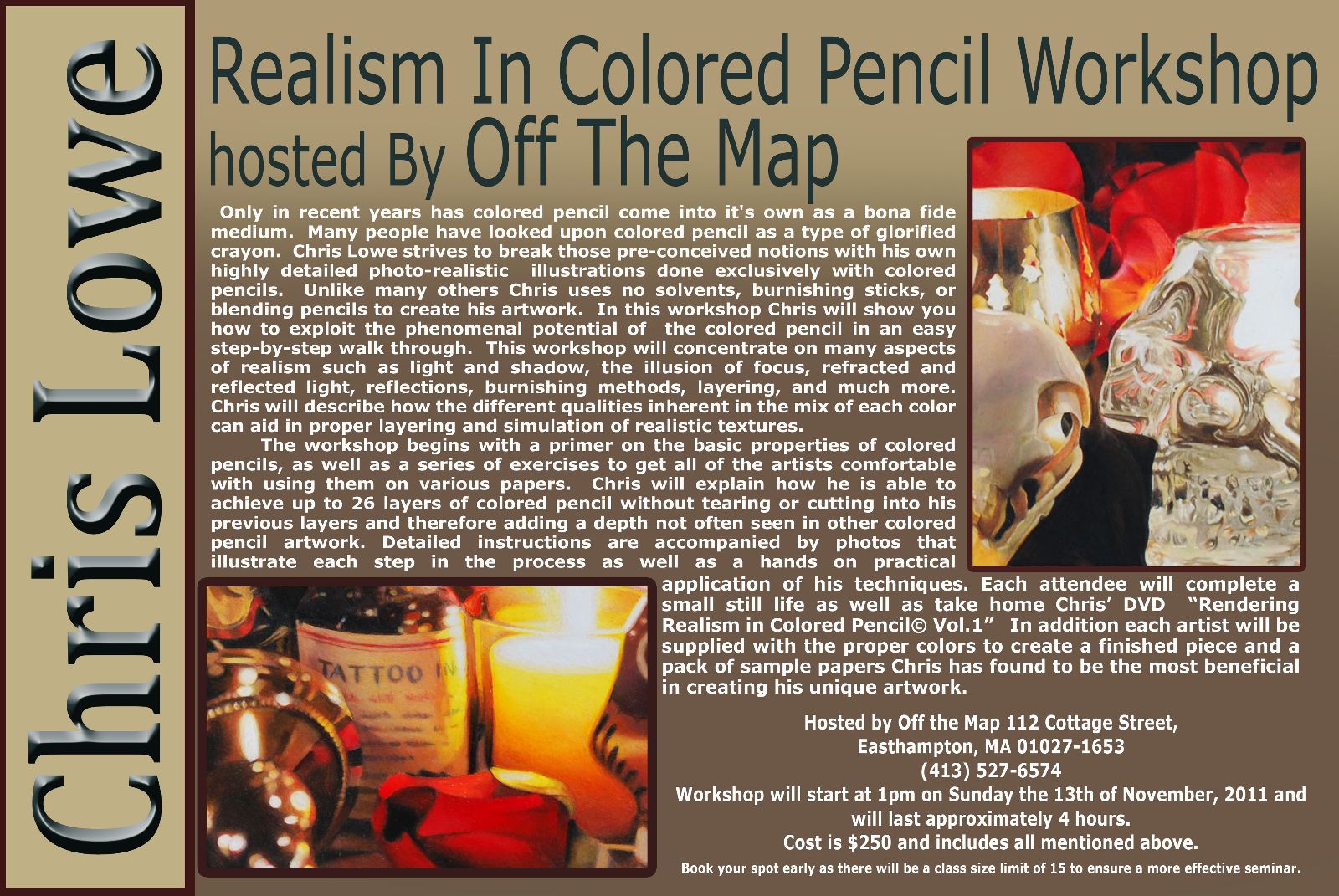 The Basics of Traditional Tattoo Flash Watercoloring Seminar by Myke Chambers October 26 @ 7pm

"I've been asked in the past to do seminars on tattooing but i've always turned down the offers. I mean, what would I teach it on? How to pull a straight line and pack solid color? And then call it "things you should know already but don't"? Nope.

The questions I get asked the most are about painting with watercolor so I thought this would be a good seminar as you don't see it offered often. Watercoloring isn't as easy as it might look...well, I take that back, if you know a few simple tricks it's actually pretty easy. After you get the basics down it's only a matter of practice and patience. With this seminar i'm offering you the basics that will set you on your path...nothing too technical...keep it simple stupid"-

-Myke Chambers

Topics Covered:

-Brushes

-Paper/wood/board

-Paint (watercolor verses liquid acrylic)

-Spit shading

-Staining

-Sealing

This is a hands on seminar, brushes, paint, and paper will be provided. (supplies permitting)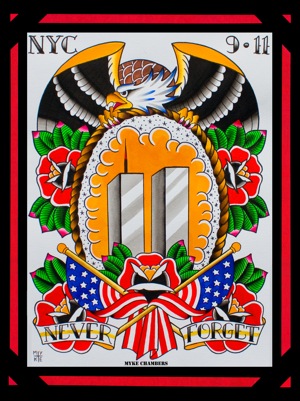 APRIL 9, 2011: GODDESSES AN ART SHOW

Tattooed Goddesses: Shifting the Consciousness Towards Positive Images of Tattooed Woman is an all female art show dedicated to help shift the perception of tattooed woman into a more positive light. Artwork will include pieces from tattooers as well as artists of all mediums. This show is opened themed so the painting will be of varied subject matter and of many mediums.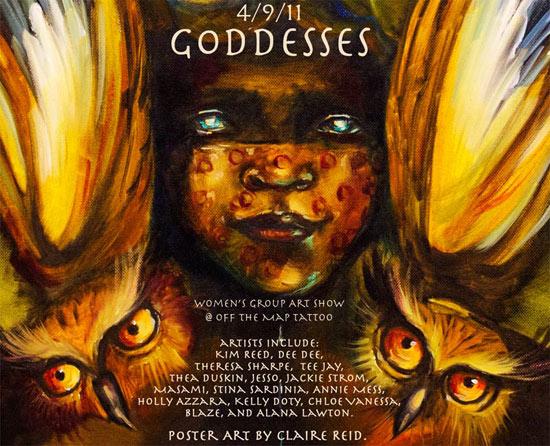 Contributing Artists Include: Chloe Vanessa, Kelly Doty, Jackee Strom, Pepper, Jesso, Masami, Dee Dee Seruga, Blaze Schwaller, TeeJay Dill, Holly Azzara, Teresa Sharpe, Karrie Whitfield, Caryl Cunningham, Jen Godfrey, Stina Sardinha, Claire Reed and more!

The group show will open Saturday April 9th 2011 in conjunction with the monthly Easthampton, Mass, ART WALK.

APRIL 17, 2011: SHAWN BARBER PAINTING SEMINAR

In this 1 day, 5 Hour Painting Seminar, Shawn will demonstrate and walk you through creating a portrait painting from reference.

We will be working with a limited palette, photo reference (which will be taken an hour before the seminar)- and painting a portrait over a 5 hour period.We will focus on drawing and laying down a solid foundation. Shawn will demonstrate process and go back and forth between active assistance and demonstration. This seminar includes discussion and demonstration on palette setup, medium choices, color mixing, constructing a drawing and painting the figure. Within the seminar, we will elaborate on the power of suggestion and 'building up' oil paint to a level of completion.

SEMINAR SOLD OUT.

APRIL 18, 2011 CHRIS DINGWELL'S PAINTING WITHOUT FEAR

Always wanted to start painting, but you are "afraid?" Tried it, but got frustrated and gave up? Painted for years, but want to try something different? Whatever your level or experience with painting, this extensive, interactive seminar workshop is for you.... I will be starting with a SHORT but thorough slide show, just to establish some background for my work, and then I will go through the steps of beginning a simple painting of my own from scratch! I will discuss my process and materials to some extent, but my paintings are not about elaborately involved techniques. ANYONE CAN DO THIS! It's just about pouring your heart into your work and allowing that to be your guide.

I will show you briefly how I create my image and layout, then follow with a lot of underpainting, building up to the final result. Once My painting is off to a good start, it will be YOUR turn. Everyone in the workshop will be working on a painting from the same reference image that I am, and together we will find lots of different ways to approach the same idea. The remainder of the time will be spent painting together; side by side, discussing our discoveries and hardships along the way. Many of these may be finished that day, but it isn't required.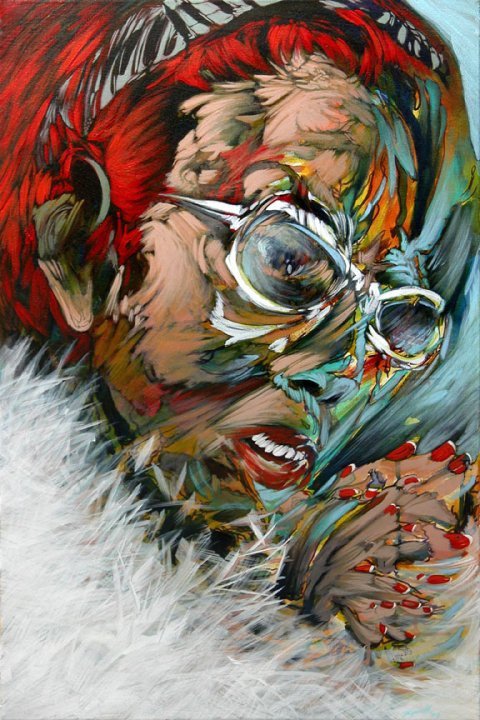 We will be working with Acrylic paints, but much of what we will be doing can apply to any medium. If you have your own paints and brushes for working in Acrylic, feel free to bring them, but it isn't necessary. If you want to work on an easel, you will need to provide your own! Otherwise I WILL BE PROVIDING ALL OF THE SUPPLIES; canvases, transfer paper, paints and brushes. Bring your own hands, eyes, ears, and brains. In addition to all of that, I have an extensive list of online resources with links to materials and technique tutorials that will be given to each participant, providing every one of you with an almost limitless expanse of painting know-how! During the workshop you will all be painting along with Chris (and all the rest of us) for much of the day; bring water to drink, and snacks. We will take a lunch break, but we are not buying yer lunch!

SEMINAR SOLD OUT.

MAY 22, 2011: CHET ZAR PAINTING SEMINAR

This day long seminar will cover the techniques and materials I use to create my oil paintings. I will go over creating the initial sketch, painting a small study and creating the final painting.

Some of the subjects I will be covering are reference, tools and materials, under painting, value, color, composition, texture, glazing...and a whole lot more. I will start with a rough sketch and discuss subject, value and composition decisions. Next will be a small study, which will focus on color, value and troubleshooting the final piece. Finally, I will create the final painting. This will be the longest part of the seminar and cover the subjects stated above. I will also be covering my experiences as an artist and thoughts on art throughout the demo.

There will be limited space for artists with some painting experience to set up and paint during the demo but simple observation and note taking is also encouraged. I will leave that up to you. I will be happy to go around to those who decide to paint or sketch and offer suggestions and/or criticism at the end of the day. Also, if time allows we can do a final question and answer session.

The class will be limited to 15 people at $200 each. You can PayPal your payment using the button below. Once a payment is made, a list of suggested supplies and materials will be emailed to you.

I prefer to keep things informal so feel free to bring snacks, drinks and whatever else you might need to make yourself comfortable.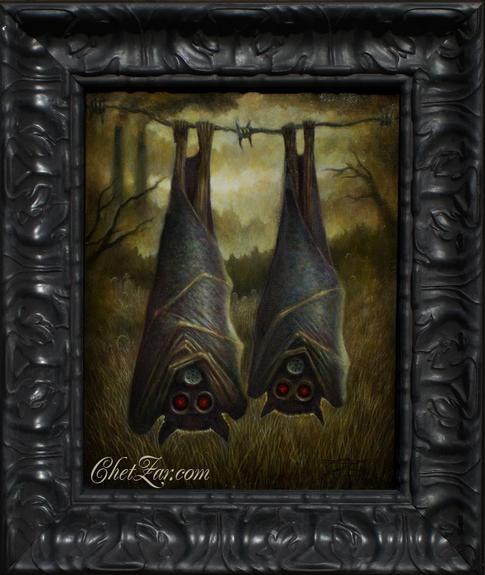 JUNE 11, 2011: PINT SIZED PAINTINGS- LAST SHOWING! ONE NIGHT ONLY!

Pint Size Paintings art gallery show @ Off The Map Tattoo Gallery!

Don't miss this one-night only event! Over 350 paintings from the world's largest collection of unique miniature paintings will be on display! Grab your magnifying glasses and get ready to focus on small art with a huge visual impact. Artists from all over the world have been a part of this Pint Size Project, and now is your chance to see it in all its splendor. This is a small window of opportunity so don't miss your chance to see the Pint Size Paintings exhibition, one night only @ Off The Map Tattoo Gallery!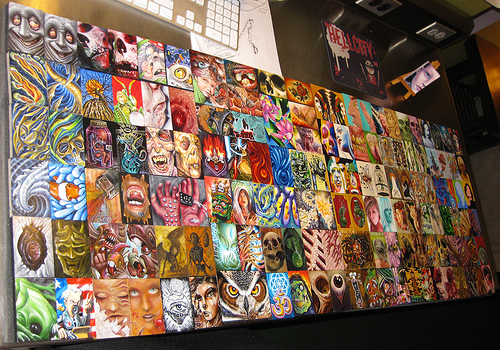 Also available for purchase at the event will be "Pint Size Paintings Volume #1 "Miniature Paintings By Big Artists", a 224-page hardcover collection of these miniature masterpieces. Take a small piece of history home with you, and take some time to ponder the little things in life! PSP Book show special $20



Purchase book now @ http://pintsizepaintings.com/