Tuesday November 25, 2014
For the last time this year, we will be offering a gift certificate sale in honor of Black Friday! From November 28-30 if you purchase a $100 gift certificate you will get a $50 gift certificate for FREE!
Use it all for yourself, split it up as gifts, whatever you prefer! No strings. Just an amazing deal. This is limited ONE PER CLIENT and can be used at any location with any artist including guests. You can purchase gift certificates online (promotion will be automatically applied), over the phone or at the shop.
Feel free to call with any questions!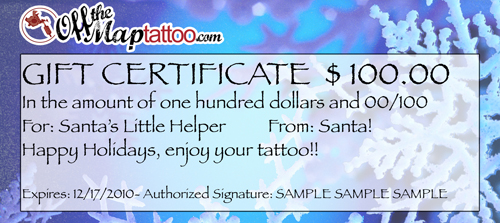 Monday November 24, 2014
Off the Map Tattoo Northwest would like to extend a giant thank you to everyone who participated yesterday in our Tattoos for the Arts benefit day. Yesterday was a huge success locally and nationally. Our company was able to complete more than eighty tattoos between two shops. All proceeds raised by our shop will stay right here in the valley. We are excited to donate more $1,000 to our local kids art programs. Hopefully next year we can go even bigger and better.
More News
Always Hiring
6-24 Month Process
Apply Today:
Click Here
Off the Map LIVE is webcast every other Sunday from Off the Map Tattoo in Easthampton Massachusetts! And join us at Luthier's Co-Op next door every other Sunday for our live webcast parties! Check out past episodes on our YouTube channel, and visit TattooNOWTV.com for more info.